THE FIRST BOOK IN THE NEW WORLD GIRLS SERIES:
First Mission:Landing on Earth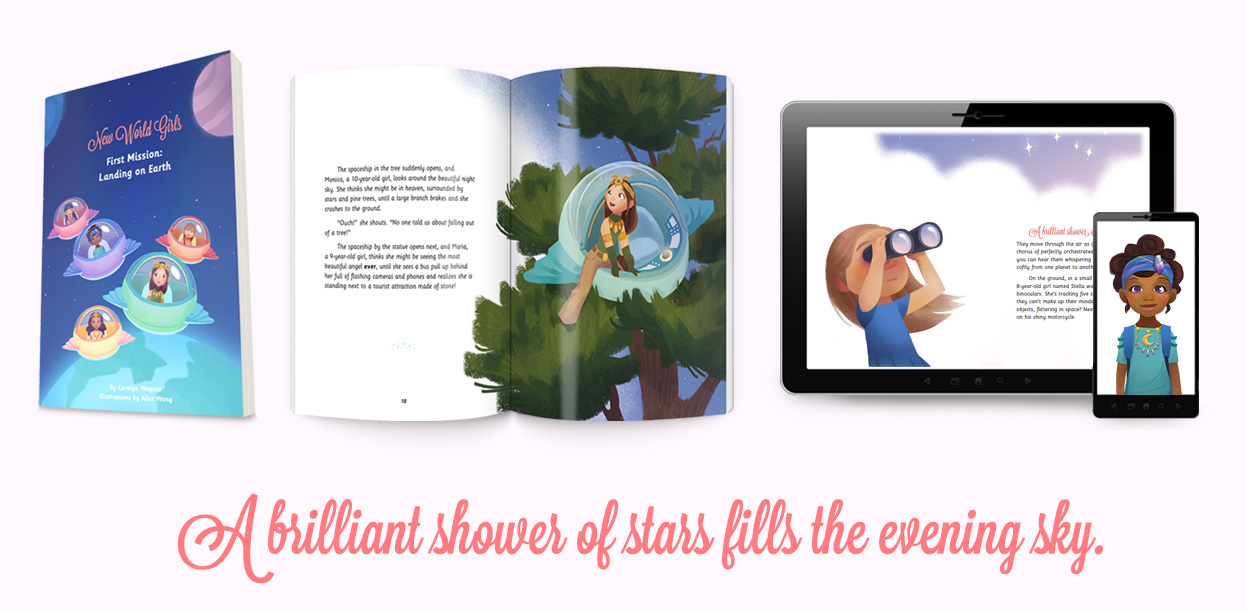 An 8-year-old girl named Stella watches the sky with a pair of huge binoculars. The New World Girls are landing on Earth! Stella is there to greet them, but… where is the girls' faithful companion, Elipup?
Join the NWG as they save their friend and explore a new planet!
The New World Girls (NWG) are five cross-cultural, crystal-toting "super girls" and their mystical mascot are sent on a vision quest from a galaxy far away for a never-ending series of earthly adventures.
Each story is full of adventure and Girl Power! These characters are created to inspire and empower all young girls.
This is the beginning of many adventures to encourage young girls to follow their individual gifts and abilities. These books are fantasy and folklore and for girls ages 6-11.
Purchasing options

SPECIAL OFFER
Buy directly from us for a 20% discount.
Plus US shipping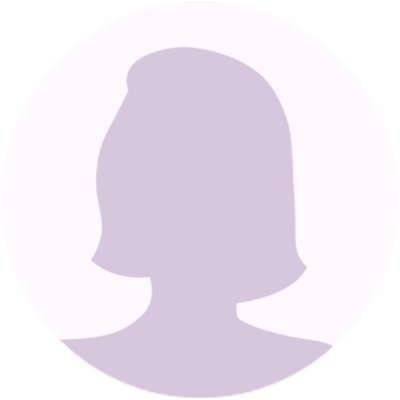 Jane Marino
Reading Teacher / Arvada
"Carolyn Wagner is planting the seeds of wonder in each child who reads the stories contained within "New World Girls"! Through these pages, children will come to understand that there are more harmonious ways to live together and to honor our planet and each other. This book and the magical stories within are an incredible gift to each child who reads them. These mystical stories will leave each child believing that anything in life is possible!"
EL PRIMER LIBRO DE LA SERIE NIÑAS DE UN NUEVO MUNDO
Primera Misión:Aterrizaje en el Planeta Tierra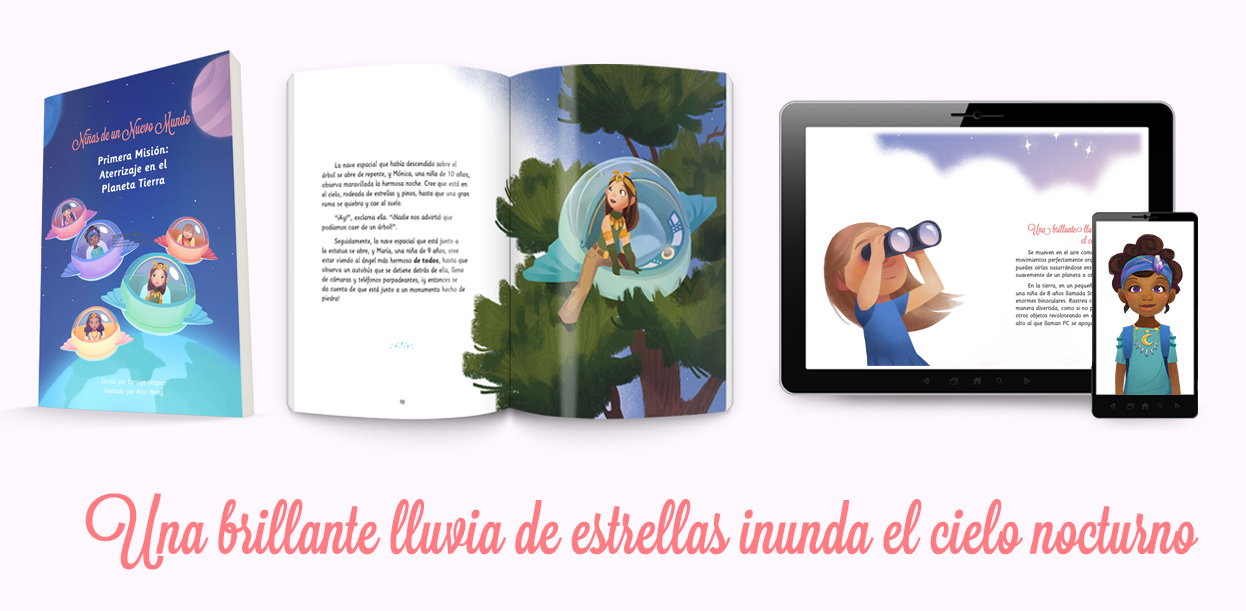 Una niña de 8 años llamada Stella observa el cielo con un par de enormes binoculares. ¡Las Niñas de un Nuevo Mundo están aterrizando en el planeta Tierra! Stella está allí para recibirlas, pero… ¿dónde está Elipup, el fiel compañero de las niñas?
Únete a las NNM™ para salvar a su amigo y explorar un nuevo planeta. 
Opciones de compra:

OFERTA MUY ESPECIAL
Compre directamente de nosotras para un 20% de descuento.
Plus US shipping
THE FIRST COLORING BOOK IN THE NEW WORLD GIRLS SERIES:
New World Girls Coloring Book: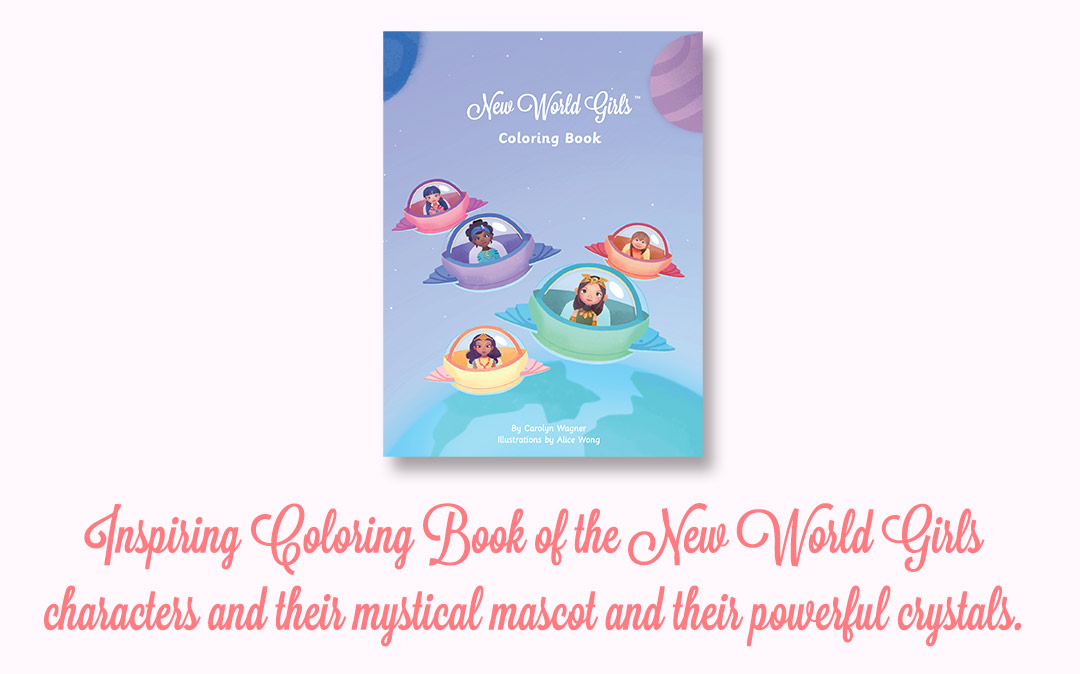 Enjoy reuniting and coloring with the New World Girls characters
This is dedicated to all the New World Girls around the world!
Purchasing options
New World Girls
Our Mission
Did you know:
A recent NYU study found that girls as young as age six believe that brilliance is a male trait.*
*Science. 27 Jan 2017: Vol. 355, Issue 6323, pp. 389-391 DOI: 10.1126/science.aah6524
Our mission is to inspire and encourage all young girls. We achieve this by providing multi-sensory experiences, tools, and techniques with books, eBooks — and soon apps, games and workshops — that give kids a whole new world and a positive, empowering narrative to go with it.
Learn more...
Explore the world of New World Girls. Individually, each girl is very unique and highly effective to solve problems, but when they come together and work as a team, they are unstoppable. Their stories and games will inspire our young human girls by giving them tools and insights into their everyday real-world issues.
Follow us on Instagram
Be part of the magic